Archive for April, 2017
[Review] Very very good and delicious cupcakes
- Fullerton, CA
-
via Google Reviews
Very very good, frosting not too sweet! Delicious.
[Review] Amazing banana flavored cupcake
- Fullerton, CA
-
via Google Reviews
My girlfriend and I are cupcake lovers and try new places all the time. Came to Patty's with high hopes and was NOT disappointed. Amazing cupcakes, not too sugary and not to plain. A perfect mix! The banana flavored cupcake is my favorite! SO GOOD. Coming back for sure.
[Review] Helpful people with great pina colada cupcake
- Fullerton, CA
-
via Google Reviews
The person was very nice and helpful. I had the red velvet cupcake with cream cheese frosting and the pina colada cupcake. The red velvet cupcake wasn't amazing, but it wasn't bad either, just kinda tasted like birthday cake, but the pina colada one was great. Will be back to try more flavors.
[Review] Delicious cupcakes that my coworkers loved
- Anaheim, CA
-
via Yelp
This place is awesome! The cupcakes were so delicious, all my coworkers love these cupcakes.
[Review] Delicious and fresh cupcakes with chocolate mousse
- Fullerton, CA
-
via Yelp
I always have a pleasant experience here and their cupcakes always taste delicious and fresh! I have not had a terrible cupcake here. I absolutely LOVE their chocolate mousse.
[Review] Yummy confetti cake
- Fullerton, CA
-
via Yelp
Purchased the confetti 8″ cake today. Yummy. This is the 2nd time we've purchased from Patty's and we haven't been disappointed. Quality is excellent and the cakes are delicious!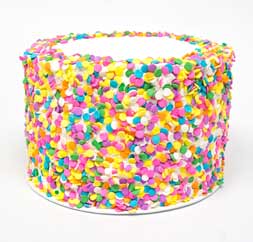 [Review] Amazing red velvet cupcakes
- Fullerton, CA
-
via Yelp
AMAZING cupcakes. The best I've had in a long time. The Red Velvet is to die for.
[Review] The Elvis cupcake impressed my picky cousin
- Newport Beach, CA
-
via Yelp
When you don't have time to bake to impress….I let Patty – she's the best!
Seriously Patty – I picked those cupcakes up Thursday for a family reunion and my one cousin who is SUPER picky and NEVER satisfied finally tried "The Elvis" cupcake…she's still raving that it was the best cupcake she'd EVER had in her ENTIRE life. Now THAT'S saying something – thank you!
[Review] Loved the whipped cream on my customized cupcake
- Chino Hills, CA
-
via Yelp
I love the whipped cream, not too sweet.  The best thing is that it can be customized cupcake.  Can't wait to try another creation.
[Review] Highly recommended cupcakes
- La Habra, CA
-
via Yelp
A coworker of mine bought cupcakes here. I got to try one.  I loved it so much !!! I ended up going the next day to buy my sister one for her birthday and she loved it. My fiancé and daughter enjoyed them so much. Really love it here. We tried a couple already lol. I highly recommend it. We will soon be ordering our wedding cake here and also my daughters birthday cake.