Posts Tagged 'Moist Cakes'
[Review] Sweet Fullerton Cupcakes
- La Palma, CA
-
via Yelp
The cupcakes were amazing! I dislike sweet, yucky frostings, however, these cupcakes were Just Right! I would recommend!
[Review] Fullerton Cakes and Cupcakes
-
via Google Reviews
Been coming here for years. New location looks good and the cakes and cupcakes are still amazing.
[Review] Amazing Cupcakes for Employees
- Irvine, CA
-
via Yelp
Looking for desserts on yelp, I came across Patty's.
The cupcakes looked kind of plain so I wasn't too excited when compared to shops that sprinkle unicorn poop and all sorts of fancy stuff, but the high review rate eased my mind that a thousand different sprinkles aren't everything on a cupcake.
So I gave it a try and ordered about 5? boxes of cupcakes online for our company.
I went to pick it up on the time and it was already packed for me to take!
Patty was actually outside by the cashier helping the workers tape the sides of the boxes and asked if I needed help carrying it to my car. Not a lot of owners do this. They stay in the back and watch workers work. It was nice to see her in action :)
Anyways, ALL of our employees had only great things to say about the cupcake asking nonstop where I ordered them from. The cupcakes were fluffy, sweet but not too sweet, loved the many varieties, liked the funky flavors they had, and just enjoyed every single one of them.
I hate frosting and whipped cream but Patty's cupcakes frosting was like a whipped cream/frosting type of topping that wasn't too creamy and dense nor sweet that was okay for me to eat! Surprised! Normally I chop off the top of a muffin and pass it to my frosting loving co-worker.
Thank you for the delicious treats and will definitely order again!
[Review] Best Cupcakes at Fullerton Bakery
-
via Google Reviews
I will guarantee you that if you come here you will not be disappointed. This is the best cupcake. Do not think twice in coming here!! Go!! It's delicious!!!
[Review] Cake for Granddaughter's Birthday
- Fullerton, CA
-
via Yelp
I want to thank Christina for corresponding with me thru email to order a cake for my goddaughters 2nd birthday. The cake looked so amazing and it tasted sooo good! Very moist and not too sweet! The birthday girl loved it as well!
[Review] Kindness is Most Definitely Part of the Recipe at Patty's
-
via Google Reviews
I stopped in on Valentines Day to get cupcakes for my son and husband. I brought my youngest son, who's two, with me. He's allergic to egg, so we were asking if they made any cupcakes without egg. They don't, which I expected, but what I didn't expect was for the owner to come out from the back to personally chat with my son. She brought him a valentines ring and sat down to talk with him. It was very kind and made me want to return. While my hubby and elder son left zero bites of cupcake for me to taste, I know they loved them!
[Review] Amazing Cakes, Cookies, and Cupcakes at Patty's
- Anaheim, CA
-
via Yelp
When you walk into this place you feel like you died and went to cupcake heaven! The colors and decor are so adorable. The cupcakes, cookies and everything here is amazing!! They have so many yummy choices you can't just buy one. The service is good too! Patty came out with a big smile and personally handed us our cupcakes! Now that's what I call good service! Thank you, Patty. We can't wait to go back soon!!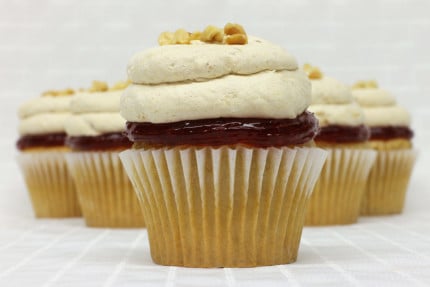 [Review] Best Cupcakes
-
via TripAdvisor
I love these cupcakes!! So much variety…you can't go wrong!! I have tried other places that are conveniently nearby, but I have regretted it. The extra 10-15 minutes is worth it!!
[Review] Cakes For Charity Casino Night
- Newport Beach, CA
-
via Yelp
We used Patty's cakes for our charity casino night. They helped us out with short notice and everyone said how delicious the desserts were! The cookies were especially a big hit. We gave their info to multiple people who wanted to use Patty's cakes and we will absolutely be using them again!
[Review] Cupcakes For Baby Showers
-
via TripAdvisor
I get these cupcakes at least once a month to reward my office staff for their hard work. These cupcakes are amazing! They are very moist, not too sweet and available in many delicious flavors. I have ordered large amounts for baby showers, etc and have never been disappointed. The quality stays consistent even in larger quantities and my guests rave about them. I have referred many friends and family members here and honestly feel these are the best cupcakes in Orange County.