Posts Tagged 'amazing cakes'
[Review] Cake For Grandson
-
via Google Reviews
They were very helpful, I'm going to order another cake for my grandson
[Review] Fresh, Moist, and Delicious Fullerton Cupcakes
-
via Google Reviews
Pattys has the best cupcakes around. Always fresh, moist, and delicious.
[Review] Beautiful Wedding Cake
- Placentia, CA
-
via Yelp
I have always wanted to use Patty's Cakes for my wedding cake ever since I tasted them for the first time! When we picked our wedding venue and they handed us recommended cake vendors and I saw them on the list I knew it was meant to be! They made the cake tasting and decorating process so easy! The cake was so yummy and we got so many compliments! Thank you so much for making our day that much better with our beautiful cake center stage.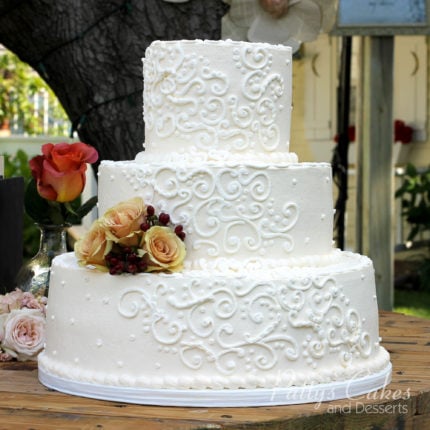 [Review] Go-To Place For Cupcakes and Desserts
- Anaheim, CA
-
via Yelp
Amazing cakes and great customer service! We purchased one of the 10″ chocolate cakes for my Dad's birthday and it was amazing! Just the right amount of moistness and sweetness. We also bought a chocolate strawberry mousse cupcake. Both did not disappoint. This will definitely be our "go to" place for cakes and desserts from now on.
[Review] Our Wedding Cake Was Perfect And Beautiful
- Temple City, CA
-
via Yelp
Wow!! I am so impressed with our beautiful and delicious 3 tier white cake with vanilla Bavarian cream and raspberry jam filling! It was light with just the right amount of sweetness and tartness. The cake was so scrumptiously moist too. All our guests loved the cake. This meant so much to us because 80% of our guests were Asian and don't like anything too heavy. Trust me, it's a huge compliment. I was so glad to hear our guests marveling at the beauty and taste of our cake. Thank you so much, Patty and your team for making the process so easy and making the perfect cake for our perfect wedding day.
[Review] Delicious Cupcakes Taste As Good As They Look
-
via Google Reviews
The cupcakes taste as delicious as they look! Every time I drive past, I am tempted to stop in!
[Review] Fresh Cupcakes Perfect To Share
- Fullerton, CA
-
via Yelp
I have heard of this place but never had time to stop by. My friends wanted cupcakes so we decided to check it out. It was amazing! Everything was fresh and tasted and looked very upscale. The cupcakes were very sweet I could barely finish one I think they are perfect to share. The frosting is amazing! Definitely coming back!
[Review] Patty's Cupcakes Are Amazing
-
via Google Reviews
The place is gorgeous and their cupcakes are so good.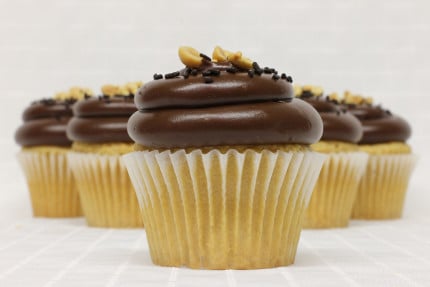 [Review] Fullerton Bakery Peanut Butter Cupcake Is Delicious
-
via Google Reviews
Patty's cupcakes are very delicious. My favorite cupcake is the ?? peanut butter with cream cheese frosting….