Posts Tagged 'Wonderful Cakes'
[Review] Cake For Grandson
-
via Google Reviews
They were very helpful, I'm going to order another cake for my grandson
[Review] Fresh, Moist, and Delicious Fullerton Cupcakes
-
via Google Reviews
Pattys has the best cupcakes around. Always fresh, moist, and delicious.
[Review] Delicious Cakes And Friendly Staff
- Placentia, CA
-
via Yelp
Delicious cupcakes, the staff is always so nice. Ordered a cake for a birthday party and everyone loved it!
[Review] Patty's Has A Variety Of Cupcake Flavors
-
via Google Reviews
Great customer service, love the environment, and most of all amazing variety of flavors!
[Review] Soft And Fluffy Wedding Cakes
-
via The Knot
I was taken with how straightforward Patty's Cakes' website, particularly with generating a quote estimate. We made sure to have an early appointment and had fun sampling flavors and selecting cake designs. While we were outside of Patty's delivery range, our officiant lived close by the shop and thankfully picked up the cake for us without a hitch. The cake was soft and fluffy, it certainly held its own against the onslaught of other desserts and food served throughout our wedding. We are so grateful for the helpful suggestions and friendly service. We loved our vanilla cake with fudge and raspberry filling and will come back for more!
[Review] Amazing Wedding Cake Experience With Patty's
- Irvine, CA
-
via Yelp
I used Patty's cakes for my wedding cake this past September 2017. I have had Patty's cupcakes in the past and they were consistently tasty and the service was always friendly. What I loved most about working with Patty's cakes for my wedding cake was how easy and transparent the process was. Their website has an easy to use tool to help you find a cake within your budget. The calculator lets you choose your approximate number of guests and then shows you the price in tiered cake vs sheet cake so you can find a size cake that will fit your budget and guest count. I also liked that the decorating is included in the price. Many other bakeries I talked with had separate pricing for decorating and the whole process became complicated and difficult to budget. Patty's cakes have a book of design options and you can customize them from there. Besides making the process easy our cake was beautiful and delicious as well, it stayed super moist and flavorful even when we were eating leftover several days later! I would highly recommend Patty's cakes for your wedding or any other event.
[Review] Moist And Yummy Cakes
- West Covina, CA
-
via Yelp
The cake was AH-MAZING!! It was so moist and yummy! We got the white cake with raspberry and vanilla bavarian cream filling. Will definitely need to try other flavors.
[Review] Wedding Cake Was Absolutely Amazing
- Irvine, CA
-
via Yelp
We ordered our wedding cake here and it was absolutely amazing. We did not wait a year to eat the top layer. We took it home and ate it. All our guest loved it and I even spoke to a guest that said she had 3 pieces.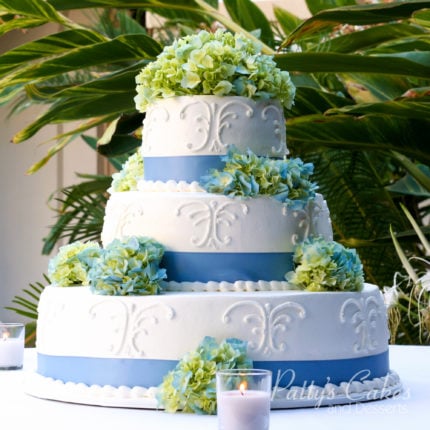 [Review] Raving About Patty's Beautiful Cakes
-
via The Knot
The best place! My husband and I had the best time tasting and creating our cake! The entire process was so much fun. They were so easy to work with! Their work is incredibly beautiful. Our guests continue to rave about our cake. My husband and I are going to make it a tradition to visit the shop every time we are in town and pick up cupcakes. They are some of the best we have ever had! We highly recommend them! Thank you so much for being a part of our special day!
[Review] Best Cupcakes In Town!
- Fullerton, CA
-
via Yelp
Best cupcakes in town! So many good flavors and all the ones I have tried were great. Fast and friendly service as well. Great place for a treat.