Posts Tagged 'Cupcakes Fullerton'
[Review] Cupcakes that are yummy in your tummy
- Fullerton, CA
-
via Yelp
Cupcakes that are yummy in your tummy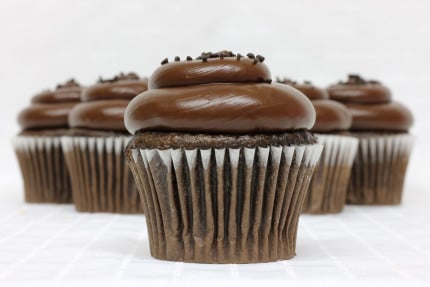 [Review] Best cupcakes in Southern California
- Fullerton, CA
-
via Google Reviews
Fun, more convenient new location and many flavors to choose from. Without a doubt the BEST cupcakes in all of Southern California!
[Review] I couldn't believe how perfect the cupcakes were!
- Fullerton, CA
-
via Google Reviews
I don't usually like cupcakes, but I bought Patty's Cupcakes for a party and everybody loved them and asked me where I bought them. I couldn't believe how perfect they were; every single one (I bought a variety). They are simply the best!!!!!
[Review] Freshly iced and baked cupcakes for a great price
- Fullerton, CA
-
via Yelp
Great cupcakes freshly iced and baked very high quality and great price the new location is great too.
[Review] Small but cute shop with great cupcakes
- Fullerton, CA
-
via Yelp
It's a small but cute shop with great cupcakes! I had the coconut one with pineapple filling and it was fantastic. The only drawback was that I wasn't the biggest fan of the red velvet.
[Review] I really love the quality ingredients in the fresh cupcakes
- Fullerton, CA
-
via Yelp
I really love the cupcakes here. They are so fresh and I appreciate that each one is frosted per order rather than being pre-frosted. The cake portion is so moist and not too sweet which is the way I like it. The frosting is light and tastes like whipped cream. LOVE IT! I feel like they use quality ingredients and I don't feel bad about taking my daughter here for the occasional treat. We use Patty's Cakes for all of our special occasion needs as well. Looking forward to visiting them in their new location after the move.
[Review] Helpful people with great pina colada cupcake
- Fullerton, CA
-
via Google Reviews
The person was very nice and helpful. I had the red velvet cupcake with cream cheese frosting and the pina colada cupcake. The red velvet cupcake wasn't amazing, but it wasn't bad either, just kinda tasted like birthday cake, but the pina colada one was great. Will be back to try more flavors.
at 10:17 AM by
Check you out! You've been working hard to play hard, and we're impressed! So much so, we're here to offer you a buy one, get one deal on cupcakes this Wednesday, April 5. Come pat yourself on the back and celebrate that you're over the hump, and on your way to the weekend!
Limit 4 cupcakes/2 free per person. May not be combined with any other offer. Sale valid on Wednesday, April 5, 2017, only.
[Review] Customization online! – Fullerton, CA
- Fullerton, CA
-
via Yelp
I have visited Patty's Cakes and Desserts many times to purchase cupcakes for events or as gifts. I have never tried any of their cakes or cake pops, but I always see people ordering custom cakes there. Every
time I visit the bakery, I'm always greeted by friendly and helpful staff. They always have a great selection of different cupcakes, which are also very delicious.  They also have a website where you can actually customize your order online. I did it the day before and picked up my order the next day with
no problem. This place is amazing and I highly recommended it for events or just fulfilling your baked good needs.
at 8:14 AM by
BIG NEWS! PATTY'S CAKES IS MOVING!
A fresh new location is coming summer 2016!
-Larger shop
-Expanded Menu
-More Deliciousness
-Same Great Service
New address is: 825 W Commonwealth Ave, Fullerton, CA 92832