Archive for the 'TV and Media' Category
at 2:28 PM by
How exciting! We were voted Best Birthday Cakes by Parenting OC in their Readers Choice 2020 awards!
at 9:06 AM by
Though the event has come and gone, Patty's Cakes and Desserts is still celebrating the 2015 Small Business of the Year Award. Part of the honor included a video feature, where we were able to share more about our bakery and the story behind it. We hope you enjoy watching and again thank you for your continued support.
at 3:46 PM by
We made it on Fox 11's Twitter page during the Good Day LA Coffee Shop Take Over. How cool!
at 3:57 PM by
Today was the day! Good Day LA with Araksya Karapetyan and Sandra Endo took over the Night Owl in Fullerton for their live broadcast. They gave away coffee to FOX 11 and Good Day LA viewers. There was live reggae music, an original Fender guitar, The Fullerton High School Band, and of course , Patty's Cakes! What a fun morning it was!
You can view some of the show here:
http://www.myfoxla.com/…/the-good-day-la-coffee-shop-takeov…
(Our feature is not online yet, but we'll be sure to post it when it becomes available.)
at 9:48 AM by
Sandra Endo with Good Day LA (Fox 11) stopped by yesterday. She selected us because we are a family business that lives and works in Fullerton. (and they like our cupcakes ;)
We'll be featured along with other Fullerton Businesses at The Night Owl Fullerton Wednesday, March 25th from 7 am- 9am. Good Day LA will be hosting a Coffee Shop Take Over! Put it on your calendar and come join us.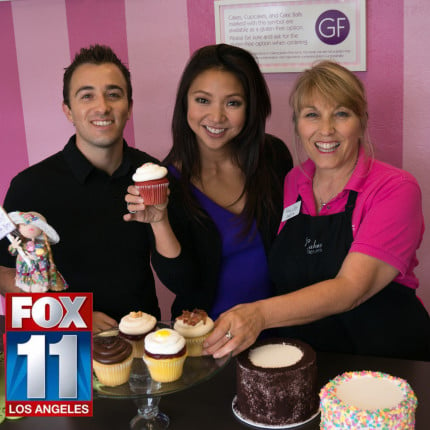 at 3:34 PM by
October 14th was National Dessert day, coincidentally the same day we ran our $2 Dollar Tuesday special. CBS quickly received wind of our deliciousness and sent a cameraman to find out what was going on. He arrived to a standing room only showroom with a line just about out the door. He started rolling tape immediately. He couldn't believe the buzz and all the happy customers. So enthralled by the excited the cameraman picked up a cupcake for himself. How could you not?!
at 10:58 AM by
We did it again, three years in a row!
We are a winner of the Couple's Choice Awards 2014 from Wedding Wire
Thank you to all of our fantastic brides and grooms for helping us earn such a prestigious award.
We've been honored to bake for weddings all over Orange County.
at 11:25 AM by
We will be featured on ABC 7 Morning News this Thursday, October 6 at 6 a.m. and 11 a.m. Reporter Alysha Del Valle will be showcasing our Elvis Cupcake as part of a segment on Extreme Desserts.