Posts Tagged 'red velvet cupcakes'
[Review] Birthday Red Velvet Cupcakes
- La Mirada, CA
-
via Google Reviews
Ordered red velvet cake for a birthday. Love their red velvet cake! Looks really pretty and delicious!
[Review] 10/10 Recommend Cupcake Store
- Costa Mesa, CA
-
via Yelp
Top 5 cupcakes! This place was cute and homey with bright colors and friendly faces. The cupcakes I bought were red velvet, which is a favorite, and a lemon drop, which was also delish. 10/10 recommend and 10/10 would go back!
[Review] Red Velvet Cake With Cream Cheese Frosting
- Cypress, CA
-
via Yelp
I placed an order for 24 cupcakes on Wednesday and picked up on a Saturday. Ordering was fairly easy compared to other bakeries. The website is neatly organized and descriptive. I loved how you could mix n match flavors for the regular sized cupcakes. Customer service was very friendly and informative over the phone and in-person. The cupcakes were absolutely delicious; the frosting is super light, not overpowering or too sweet. Our guests really enjoyed these, will definitely reorder in the future. If you are having a hard time choosing flavors, the red velvet with cream cheese frosting is highly recommended!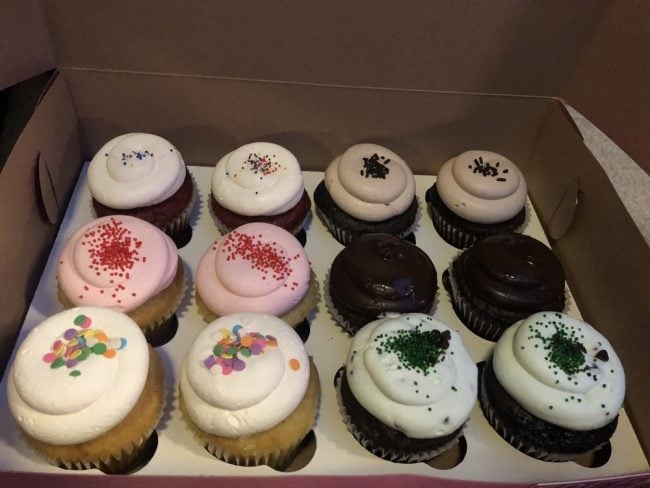 [Review] "Best Cupcakes I've Ever Had!"
-
via Google Reviews
Let me say these are the best cupcakes I ever had!! Love them!!
[Review] Patty's Has A Variety Of Cupcake Flavors
-
via Google Reviews
Great customer service, love the environment, and most of all amazing variety of flavors!
[Review] Delicious Cupcakes Perfect For Kids!
- Anaheim, CA
-
via Yelp
I loved the cupcakes!!! I ordered the pumpkin, chocolate, and red velvet flavor and they were all delicious! Kids were happy with them.
Friendly staff took my order right away and explained to me that cupcakes are fresh to order. They did not take long for them to frost the cupcakes. It took me longer to decide the flavor of cupcakes I wanted.
I will definitely buy again and try different flavors.
[Review] Great Freshly-Made Cupcakes
-
via TripAdvisor
Always delicious, great variety, and freshly made cupcakes. Have not tried them all yet, but highly recommend mint chip fudge, sea salt caramel fudge, red velvet, chocolate peanut butter, and Elvis cupcakes. So glad they open this place in my neighborhood. The only difficulty can be the parking during peak hours. Only a couple spots in the back, otherwise residential or other businesses parking available. But well worth the effort! That being said, I am glad that is a healthy walking distance for me. Gives me an excuse to burn off the calories on my way to and from, and can enjoy wonderful treats in between. Next occasion, I will try a cake. They also look delicious!
[Review] Delicious Cupcakes Perfect For Weddings
- Santa Ana, CA
-
via Yelp
In a word… Delicious. We ordered two types of cupcakes for our wedding… red velvet filled with a vanilla whip, topped with buttercream AND white cake filled with Bavarian crème, topped with a vanilla whip. My favorite thing about their cakes is that they don't use fondant. No stiff flavorless topping, just a delicious whipped delight. My guest still raves over how good my cupcakes were. Highly recommend and would definitely use them again!
[Review] Perfect Red Velvet Cupcake
-
via Google Reviews
Tried six different flavors and my favorites were the Red Velvet cupcake and the Chocolate Carmel Salty. The cake was moist and the frosting was not too sweet. It was perfect. The staff was very helpful. I will be coming back again.