Posts Tagged 'Amazing wedding cakes'
[Review] Reasonably Priced Fullerton Wedding Cake
- Los Angeles, CA
-
via Yelp
We loved getting our wedding cake from Patty's Cakes! It was delicious and reasonably priced. You can't go wrong!
[Review] Favorite Place for Cupcakes
- Fullerton, CA
-
via Yelp
Patty's cakes is my favorite place for cupcakes. They are always good and delicious. The workers are friendly every time I go.
[Review] Our Wedding Cake was PERFECT from Fullerton Bakery
- Fullerton, CA
-
via Yelp
Stop looking for other cake places, because you found your bakery right here. Patty's Cakes was affordable, professional, supportive, and above all else.. TASTY!
I was looking for a place to get a yellow wedding cake (My favorite!) made for our 100 person wedding this last March, and I contacted about 4 other bakeries looking for someone who would make this flavor. The other bakeries said they would not make the cake flavor I was looking for and were asking for over $400 for the bare minimum of designs. Sad.
I contacted Patty's cakes and their main contact, Philip, responded immediately saying "Yes! We can make a yellow cake for you!" and gave me a price estimation that was well where my budget would allow me. He then answered all my questions that I had, and was able to do a cake tasting on my own time!
Now, the taste. OH MAN it was great! I have a major sweet tooth, but my now husband does not. The Icing that they used was a perfect compliment to the cake itself and it was not too much or too little. We both loved it and knew that this cake was the way to go.
We ordered the cake early (about 4 months in advance), and as we got closer to the wedding date, the number of guests we invited dwindled down from 100 to 85. I asked about 1 month ahead if they could make the cake smaller? They did and refunded the cost difference to us, no hassle!
As we also got closer to the wedding day, the original courier I was going to have to bring the cake was not available for us and I needed to find someone to be able to pick up the cake and deliver it from Fullerton to Topanga Canyon. I asked Philip for some guidance and he was not only able to solve our problems, but get a decent pricing for us considering the distance as well!
The cake arrived and it was PERFECT. If you look at the picture here, you'll see our cake too! It was a fantastic purchase and everyone kept telling me how tasty it was! We're definitely going back to Patty's next time we need a cake, for any event!!
[Review] Amazing Wedding Cake from Patty's Cakes
- Corona, CA
-
via Yelp
We found this shop through the Yelp reviews for our wedding cake. Decided to go for a tasting, Philip was very helpful with the flavor combinations and cake size. We ended up ordering our wedding cake through them and that was the best decision ever! All of our guests enjoyed it and there was no left over.
[Review] We Ordered our Wedding Cake from Another State!
- Ashburn, VA
-
via Google Reviews
The cake consultation with Philip was excellent and he worked with us to determine the appropriate cake size. My wife and I live in Virginia, however, our family resides in southern California. It was easy to work with Philip via email. The cake options were delicious and our guests loved our vanilla cake with custard and berry jam. The cake had just the right amount of sweetness.
[Review] Moist and Flavorful Wedding Cake
-
via Wedding Wire
We met Patty at an event and I knew immediately she had to make my wedding cake. It was so moist and flavorful and unlike any wedding cake I had ever had. No fondant (which I love!) and they look and taste so amazing. I have no idea how they are SO flavorful and moist/soft. Before my wedding even came around, my sister in law's baker for her own wedding fell through. She was absolutely scrambling!! Patty came in clutch and made their wedding cake at the last minute and saved the day! I still get calls asking who made our cake because they need the number for a birthday or wedding! It was that good. Patty is prompt, professional, sweet, and oh so talented. Not to mention the best prices I could find! Definitely go with Patty's cakes for your next event.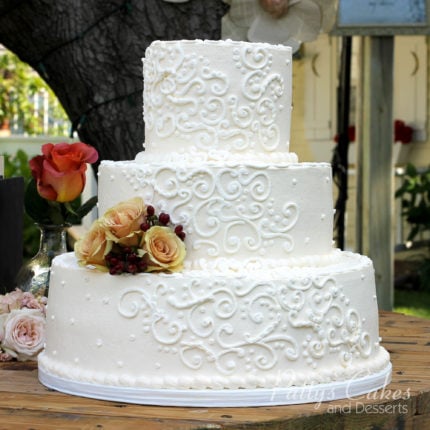 [Review] Gorgeous and Tasted AMAZING!
-
via TripAdvisor
Our wedding cake tasting at Patty's cakes was one of the best parts about planning our wedding for my husband and I. After trying a few other places we found Patty's cakes online. The minute we walked in we were greeted by friendly people and got to choose some of the most delicious flavors of cakes (and their frosting is perfect, and to be honest I am pretty picky when it comes to frosting I like). My husband and I devoured our samples. After speaking with Philip, who was awesome, he helped us design our dream cake! Prior to our appointment, I had searched on Pinterest for hours (like manly brides do) on what my "dream cake" would look like (simple and elegant). Patty's cakes made it perfectly and it turned out better than I would have imagined! We had a 5 tier cake to feed nearly 200 guests! The top tier (for just us) was chocolate cake with peanut butter frosting while the rest of the cake (4 layers) was vanilla with "fun-fetti". We thought it would "shake up" the traditional look of the cake to have something fun and flavorful in the inside of our cake. It's been a few months since our wedding and we continually have our friends and relatives asking us where we got our cake. Lastly, the price was VERY reasonable, too! I highly recommend anyone getting married in the OC or surrounding areas to go in and try their cakes/cupcakes, you will NOT be disappointed!
[Review] Best Cupcake Place in Fullerton
- Irvine, CA
-
via Yelp
This the best cupcake place in Fullerton. I have always enjoyed kids birthday cakes those I ordered as well.
[Review] Butter Pecan Cupcakes in Fullerton
-
via Google Reviews
The cupcakes at Patty's are always delicious. My favorite is Butter Pecan.
[Review] Gluten-Free Cupcakes at Fullerton Bakery
-
via The Knot
Patty's has long been a favorite in my family, and they did a wonderful job with my wedding cake! They were very easy to work with, as well as accommodating with my request for additional gluten-free cupcakes to be delivered to my venue along with the cake. Everything arrived on time and looked (but more importantly tasted) wonderful!