Posts Tagged 'Orange County cakery'
[Review] Best Cupcakes Ever!
-
via Google Reviews
Best cupcakes I've ever had! Highly recommend it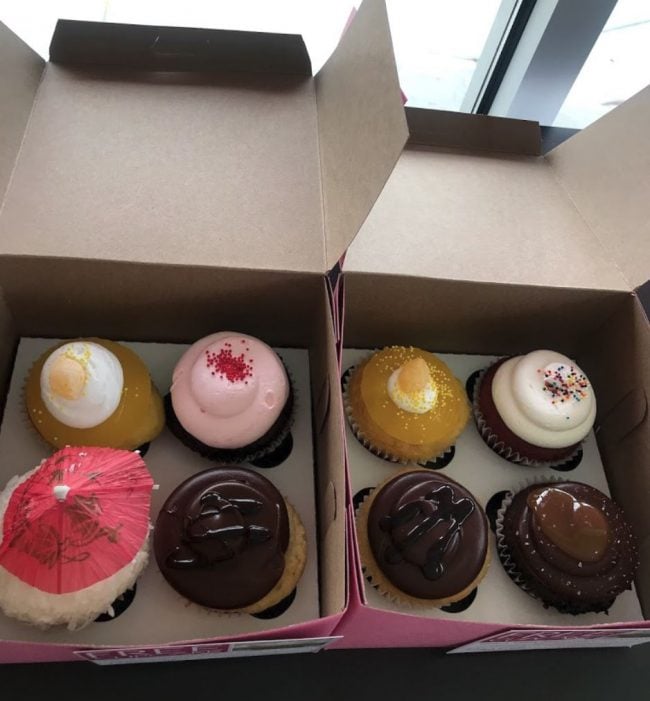 [Review] Delicious Mint Chocolate Cupcake
-
via Google Reviews
Such a cute little place! We came in at five minutes to 9pm and they were very helpful icing our dozen cupcakes to order. I asked for assorted flavors and they gave me a good variety of their options. My favorite was the mint chocolate. :) I am not a fan of icing usually, but this icing is light and fluffy and moist – I think it's whipped cream, and it's divine! I'll definitely be coming back for all my cupcake needs!
[Review] Best Cupcake Flavors Ever
-
via Yelp
My husband and I came here looking for cupcakes. My gosh!!!! By far the best cupcakes ever. I tried the banana with vanilla cream. So moist and sweet!! Not too sweet though. I also tried the lemon razzle. The lemon paired with the raspberry was amazing. I wasn't too much of a fan of the vanilla cream inside the cupcake. Nonetheless, these are the best cupcakes I've had. I'm excited to try other flavors and the cakes!
[Review] Valentine's Day Treats At Patty's!
- Los Angeles, CA
-
via Yelp
Made my ribbon blue for Valentine's day =]. Great customer service. My guy devoured the Valentine's treats..so I'm guessing delicious.
[Review] Patty's Cakes Offer Gluten Free Cupcakes And Cakes
- Pico Rivera, CA
-
via Yelp
They had the largest selection of flavors of gluten free cupcakes I have EVER seen!! I recommend the chocolate bread ones they are not dry and they don't frost the cupcakes until you order them. My fav is the Chocolate Chipper that has small pieces of chips on top.
[Review] Great Cake Shop With Great Customer Service
- Anaheim, CA
-
via Yelp
Great customer service, Cake, location, and a variety of flavors to choose from. I would highly recommend!
[Review] Best Cupcakes Ever At Fullerton Bakery
- Los Angeles, CA
-
via Yelp
Best cupcakes ever, and I don't usually even like cupcakes!! So many unique flavors and sweet but not overwhelmingly sweet with sugar icing lie other cupcakes. Sad their store closed last time I went maybe a year ago, but she was taking phone orders.
[Review] Patty's Has A Variety Of Cupcake Flavors
-
via Google Reviews
Great customer service, love the environment, and most of all amazing variety of flavors!
[Review] Wedding Cake Makes Wedding Day More Special
- Aliso Viejo, CA
-
via Yelp
I am beyond grateful for choosing patty's cakes as my wedding cake vendor! Everything about patty's cakes was so professional! The cake tasting was so easy and fun and I love how they made it sweet and simple! The hard part was choosing what flavor to get because everything tasted so good! Everyone at our wedding raved about the cake! We even had some guests eat more than one slice! A special thank you to Philip who helped us out! Thank you patty's cakes! You truly made my wedding day that more special.