Posts Tagged 'Fullerton wedding cakes'
[Review] Fullerton Bakery Peanut Butter Cupcake Is Delicious
-
via Google Reviews
Patty's cupcakes are very delicious. My favorite cupcake is the ?? peanut butter with cream cheese frosting….
[Review] Spot On Cupcakes At Patty's Cakes
-
via The Knot
We had sampled many cakes and visited many cake designers. The service we received was warm and caring. They took the time to listen to our ideas and requests. The end result was spot on and the flavors were better than we expected. I have already suggested Patty's Cakes to other couples.
[Review] Magical Wedding Cake By Patty's Cakes
- Rancho Santa Margarita, CA
-
via Yelp
This review is long overdue. My husband and I were married this past May at Orange Hill Restaurant and Pattys was included in the package. I had never heard of Pattys and was a little nervous because I am a HUGE fan of cake but after I googled them and found out they're a fondant free bakery I was thrilled! When we went for our cake tasting, we met with Patty herself, and she was an absolute delight, was incredibly helpful and you could tell she really cared about her cakes and that her clients were happy. The day of our wedding arrived and the cake was pure perfection! It was absolutely gorgeous, almost a shame to eat but trust me, we did because it was amazing! All of our friends and family kept telling us it was the best cake they ever had at a wedding! We have since gone to order more cakes from Pattys and they were superb. If you go into Pattys though, be sure to pick up few cookies and cake in a bag because they are pure magic. Seriously.
[Review] Beautiful No Fondant Wedding Cakes!
-
via Google Reviews
My husband and I had the best experience with this place. Best cakes ever! If you're not a fondant fan this is the place to go! The cakes are incredibly delicious! Our cake was a coconut pineapple cheese cream filling and it was delicious for everyone at our wedding thought it was one of the most delicious cakes they ever had. Good prices and just the whole outcome was amazing will definitely be buying from here again! Thank you, Philip, for everything and the experience you're the best!!!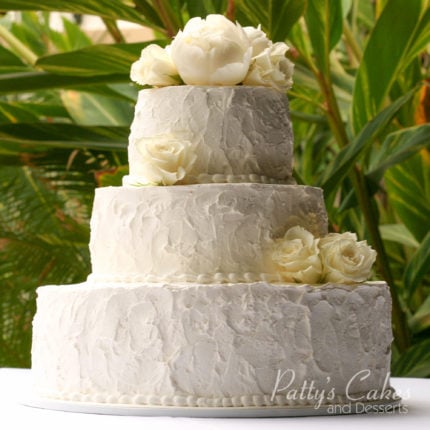 [Review] Amazing Wedding Cakes And Cupcakes
-
via The Knot
Patty's cake was the absolute best on our big day! The whole process of picking out our cake was great and the taste of their cakes is the best cake my husband and I have ever had! We still visit now almost a year later whenever we're in the area to pick up their cupcakes. 100% recommend Patty's cakes!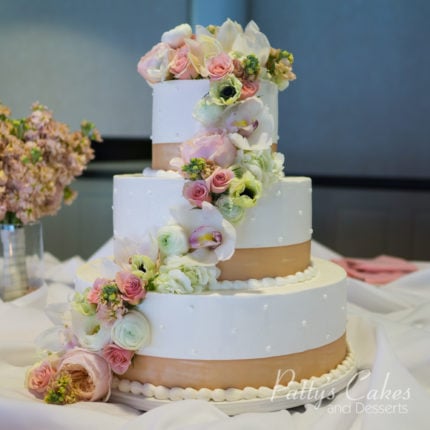 [Review] Patty's Is The Best Place For Wedding Cakes
-
via The Knot
Patty's really is the best. The entire process was so easy and the cake was delicious but also gorgeous. When we found out my husbands family wouldn't be able to make it to the wedding I thought we would end up with too much cake. Not a chance, the cake was so good that our guests devoured every last piece. The price was great, delivery was exactly on time (very early on a Saturday), and the customer service was great. We did make design changes a couple times after the initial contract but they were always extremely accommodating and helpful. I can't say enough good things about this place and will recommend them to anyone looking for a wedding or any other cake.
[Review] Amazing Cakes And Great Service
- Placentia, CA
-
via Google Reviews
I realize my review is very late. My wedding was March of this year. I was referred to Patty's cakes from my wedding planner at Black Gold Golf Club. I scheduled a meeting to taste the cakes and decide on a wedding cake for our special day. We met with Patti and it was a great experience. She laughed and joked with my husband like we've been lifelong friends. The cake was amazing !!
[Review] Patty's Has A Variety Of Cupcake Flavors
-
via Google Reviews
Great customer service, love the environment, and most of all amazing variety of flavors!
[Review] Triple Layered Wedding Cake Tasted Delicious
- Newport Beach, CA
-
via Yelp
Thank you so much Patty's Cakes for our beautiful wedding cake!! It was everything we asked and hoped for. The 3 layers of our choice were delicious!! So many of our guests asked where we got it. Patty's cakes prices their cakes very well. They are also extremely reliable, delivering cakes on time. But best of all, not only did our cake look pretty, it tasted delicious! I must say the red velvet was everyone's favorite! Thank you!!!
[Review] Amazing Wedding Cake Experience With Patty's
- Irvine, CA
-
via Yelp
I used Patty's cakes for my wedding cake this past September 2017. I have had Patty's cupcakes in the past and they were consistently tasty and the service was always friendly. What I loved most about working with Patty's cakes for my wedding cake was how easy and transparent the process was. Their website has an easy to use tool to help you find a cake within your budget. The calculator lets you choose your approximate number of guests and then shows you the price in tiered cake vs sheet cake so you can find a size cake that will fit your budget and guest count. I also liked that the decorating is included in the price. Many other bakeries I talked with had separate pricing for decorating and the whole process became complicated and difficult to budget. Patty's cakes have a book of design options and you can customize them from there. Besides making the process easy our cake was beautiful and delicious as well, it stayed super moist and flavorful even when we were eating leftover several days later! I would highly recommend Patty's cakes for your wedding or any other event.