Archive for October, 2014
[Review] So Good and Fresh!!!
- Fullerton, CA
-
via Yahoo!
The cupcakes were so good and fresh! I love having a good bakery near by!
[Review] More than just a fan for this place!!!
- Anaheim Hills, CA
-
via Yelp
I love love LOOOOOOOOVE Patty cakes!!!!
I first tried them out when my sister was doing cake tasting with various bakeries for her birthday. She brought back a taster of a vanilla mini cupcake and a mini red velvet and it was tasty fresh! So for her birthday we ordered a vanilla pineapple cream cheese cake! This cake was a HIT at my sisters birthday party. It was beyond fresh even after it being in the fridge for 2 days it still tasted as fresh as the day we bought it!I will be getting my birthday cake here without a doubt!
Now for the cupcakes. When you walk in your thinking, where's the case of cupcakes!?!? Well the way they do things here with their cupcakes, is quite different. You look on the board and see which one you'd like. They go in the back and frost them for you. Its a mousse frosting, not a solid icing. You can mix and match your cupcake toppings. So if you want the Elvis topping on a vanilla cake instead of banana, they will do that for ya. Very patient and super nice employees. So we walked out of there with a few cupcakes. The one I ordered was the Butter pecan and a vanilla cake with the Elvis topping. The butter pecan was instant crack!!!!!! It was moist , the apple filling was amazing. The cream cheese mousse was not to sweet, jus perfect! The vanilla cake with Elvis toppings ( Peanut butter mousse and nice big bits of bacon) This was tasty and the peanut butter mousse was not overwhelming, just nice and light. The bacon was nice thick cut bacon with sprinkles of sugar.Thats how I usually eat my bacon so I was in love with that. Whenever I come back here its safe to say that I will most definitely order the Butter pecan cupcake!
Im more than a fan of this place and I wish them nothing but more success in the business of cakes and cupcakes!
[Review] Customizing Your Cupcakes!!!
- Tustin, CA
-
via Yelp
Love how you can "customize" your cupcake with any
combination of cakes and icings. I chose the white cake
(subtle almond flavor) and fudge icing, and it didn't
disappoint. Workers are helpful when suggesting new and fun
combinations. $3.00 for a customized cupcake. And they're
beautiful!
[Review] Cupcake Filled with Apples!!!
- Fullerton, CA
-
via Google Reviews
My sister bought me cupcake from Patty's Cakes and I thought it'd be just like any other cupcake, but it wasn't! I had a cupcake filled with apples (I am guessing it was the butter pecan) and it was so light! You'd imagine that this cupcake to be much more dense and heavy, but it wasn't at all. I loved the subtle flavors and it had just the right amount of sweetness. Looking forward to trying more cupcakes (and cakes!) from Patty's Cakes.
[Review] Cupcakes Frosted to Order!!!
- Manhattan, NY
-
via Yelp
CUPCAKES FROSTED TO ORDER! so you can make ANY combination of frosting/cake/filling you want as long as they have it!! & specialty cupcakes cost the same as regular cupcakes, just $3
we came right before closing & they still had all options available!
—chocolate salted caramel (specialty cupcake): moist & good, although there was a bit too much chocolate icing
—banana cake w/ raspberry chiffon: a light delight! (although Sprinkle's banana cake is my favorite)
the worker here was SO NICE, she let the 3 of us finish eating our cupcakes before we decided what to order for our YELP CHECK-IN buy 3 get one free deal!
NOTE: self serve citrus water! there's only one table w/ 4 chairs inside & a few chairs outside the bakery
[Review] Amazingly Moist and Delicious!!!
- Fullerton, CA
-
via Google Reviews
Amazing cakes, and the frosting is top notch to boot! Highly recommended for those that are in the area. P.S. Cakepops we're amazingly moist and delicious as well!
at 12:48 PM by
Cupcakes so popular, CBS Channel 2 News stopped by to see what was going on! So cool!!
They heard about our $2 Tuesday special and that it was National Dessert Day, so they stopped by to see our deliciousness. =)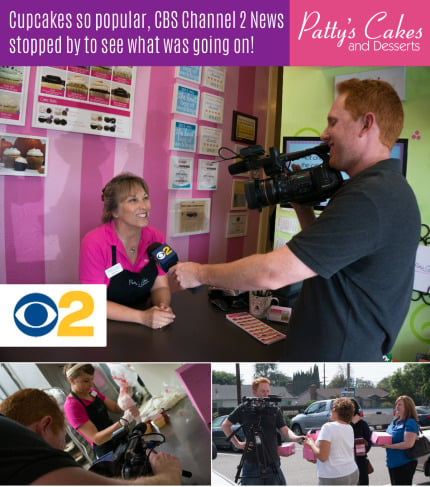 at 7:04 AM by
$2 Tuesday, All 54 flavors of Cupcakes, all 12 flavors of cake balls!
Mention this offer when placing your order. Valid on Tuesday October 14th only.
Limit 4 cupcakes or cake balls per person. Cannot be combined with any other promotions. While supplies last. Gluten-free cupcakes and cake balls are $2.50 ea. Must pick up the same day.
at 9:59 AM by
We spent our Sunday evening at the gorgeous Villa Del Sol bridal show in Fullerton. We met so many great couples and we're excited to bake for them. (yes that's Patty trying to sneak out of the photo
)