Archive for April, 2017
[Review] Delicious cupcakes that my coworkers loved
- Anaheim, CA
-
via Yelp
This place is awesome! The cupcakes were so delicious, all my coworkers love these cupcakes.
[Review] Delicious and fresh cupcakes with chocolate mousse
- Fullerton, CA
-
via Yelp
I always have a pleasant experience here and their cupcakes always taste delicious and fresh! I have not had a terrible cupcake here. I absolutely LOVE their chocolate mousse.
[Review] Yummy confetti cake
- Fullerton, CA
-
via Yelp
Purchased the confetti 8″ cake today. Yummy. This is the 2nd time we've purchased from Patty's and we haven't been disappointed. Quality is excellent and the cakes are delicious!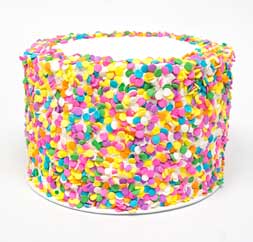 [Review] Amazing red velvet cupcakes
- Fullerton, CA
-
via Yelp
AMAZING cupcakes. The best I've had in a long time. The Red Velvet is to die for.
[Review] The Elvis cupcake impressed my picky cousin
- Newport Beach, CA
-
via Yelp
When you don't have time to bake to impress….I let Patty – she's the best!
Seriously Patty – I picked those cupcakes up Thursday for a family reunion and my one cousin who is SUPER picky and NEVER satisfied finally tried "The Elvis" cupcake…she's still raving that it was the best cupcake she'd EVER had in her ENTIRE life. Now THAT'S saying something – thank you!
[Review] Loved the whipped cream on my customized cupcake
- Chino Hills, CA
-
via Yelp
I love the whipped cream, not too sweet.  The best thing is that it can be customized cupcake.  Can't wait to try another creation.
[Review] Highly recommended cupcakes
- La Habra, CA
-
via Yelp
A coworker of mine bought cupcakes here. I got to try one.  I loved it so much !!! I ended up going the next day to buy my sister one for her birthday and she loved it. My fiancé and daughter enjoyed them so much. Really love it here. We tried a couple already lol. I highly recommend it. We will soon be ordering our wedding cake here and also my daughters birthday cake.
[Review] Flavorful and moist wedding cakes and cupcaks
- Orange, CA
-
via Yelp
We've ordered 3 cakes (2 for our wedding shower + 1 for the wedding reception) and a NUMEROUS amount of red velvet cupcakes for the dessert tables earlier this year. I can say for a fact, I've never had so many friends and family members compliment and inquire with regards as to where we ordered the cakes from.
All the credit goes to Patty's Cakes.
Whether it be a cake, cupcake, or cake ball, just anticipate a flavorful, moist, yet not too overwhelmingly sweet taste.
This place is awesome with great customer service and an eye for many nuances and details that wouldn't normally materialize to a "special event" consumers like my wife and I. =p
*PS. Philip, you're the best. Thank you for the consult and all of the assistance sir.
[Review] Dreamy coconut chocolate cupcake
- Fullerton, CA
-
via Yelp
I had a coconut chocolate cupcake that was dreamy!
[Review] Unforgettable wedding cake experience
- Fullerton, CA
-
via Yelp
My experience with Patty's cake was unforgettable, even though our wedding was very intimate, only 25 guests.
The first day we went to choose our cake and do the cake tasting, Patty (the owner) was very friendly and patient. First I looked through the numerous wedding cake picture books and we made our selection. Next, she brought out a few cupcakes of the flavors of our choice and all the fillings available. She made recommendations and left us to play with them.
On the day of the wedding, I was extremely happy to see the beautiful cake. And it tasted amazing, all my guests had nothing but good comments.