Archive for May, 2017
[Review] Awesome cake that was super moist
- Fullerton, CA
-
via Google Reviews
The cake was awesome. Super moist with every bite.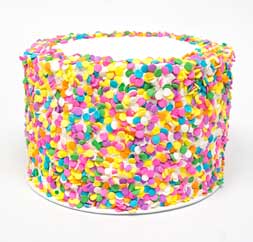 [Review] Amazing cupcakes
- Fullerton, CA
-
via Google Reviews
Second time going back, tried some chocolate cupcakes. AMAZING.
My favorite is still The banana cupcake. The price is right.
[Review] Patty's Cakes was very accommodating and did a great job!
- Fullerton, CA
-
via Wedding Wire
Patty's Cakes did an amazing job on my wedding cake! They were very accommodating for the requests I had made. I have an allergy to gluten. They were able to make the top tier of our cake gluten free and the rest was a normal cake. This was great for me because I was able to enjoy the cake but the rest of the guests did not have to eat gluten free cake. They also made gluten free cupcakes which made it easy for me to cut into for the cake cutting and leave the top tier looking amazing. I showed them a photo of a cake that I really liked and they were able to make the cake look exactly as I wanted it to look!
[Review] Good cake balls with different flavors
- La Habra, CA
-
via Yelp
I haven't been here personally but I work nearby and my bf decided to bring me a sweet one day. It was a Cakeball. I thought it was the sweetest thing of him. It was so good. I asked him where he got it and he said this place around the corner. So now and then he surprises me with a cake ball of a diff flavor! They are my favorite! Def come and check them out.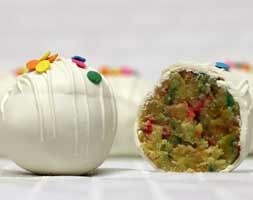 [Review] Super moist cupcakes with delicious frostings
- Fullerton, CA
-
via Yelp
I stopped by their new location the other day…it's dangerously close to home and I really wanted to try their cupcakes and see how good they are. I walked in and learned they ice the cupcakes once ordered. That's nice so they're fresh! I ordered the seasonal pumpkin cupcake and a red velvet cupcake. Both were super moist and the frosting was a delicious buttercream type. Red velvet can sometimes be dry but this one was not at all…good flavor! I'll definitely return..maybe too much. I should probably walk there and it'll cancel out the calories…right? Haha!
[Review] I can't say anything bad about this place!
- Corona, CA
-
via Yelp
We love, love Patty's Cakes, and I can't say anything bad about this place except we don't have one in Corona, CA, we love you and your staff, Patty.
[Review] Beautiful cake design and taste that left me dreaming
- Orange, CA
-
via Yelp
I want to do a song and dance in the middle of Patty's Cakes! After a horrible experience with a different cake place, Patty's was absolutely incredible and accommodating.
I have Celiac, but my husband does not. We needed a wedding cake that would work for both of us, and Patty's had it down. They did a free tasting where I tried the gluten free, and my husband tried the regular, both of which were SO delicious. We picked flavors and design super easily. Everything was included with our package from the Orange Mining Co, except for the berries on our cake, which were very affordable. They also let me bring in my own ribbon to put around the base of the cake!
We ended up going with a yellow cake with a chocolate mousse filling. They did the top tier gluten free, and the rest was regular. Five stars are not enough for the taste… I am still dreaming about that cake. The design also came out beautiful. The frosting was perfectly textured, the ribbon looked great, and the berries on top had edible glitter!
The cake is super moist and delicious. I never thought plain, yellow cake could be so tasty and flavorful. And the chocolate mousse… oh man. So light and yummy. Their frosting is also super light, whipped, and not heavy or greasy at all. Unfortunately, we didn't get to take any home because we got married away from our home state, and I am still so sad about it!
Everyone I spoke to and worked with was super polite and helpful. I could not be happier with our experience!
[Review] Best cupcakes in Southern California
- Fullerton, CA
-
via Google Reviews
Fun, more convenient new location and many flavors to choose from. Without a doubt the BEST cupcakes in all of Southern California!
[Review] I couldn't believe how perfect the cupcakes were!
- Fullerton, CA
-
via Google Reviews
I don't usually like cupcakes, but I bought Patty's Cupcakes for a party and everybody loved them and asked me where I bought them. I couldn't believe how perfect they were; every single one (I bought a variety). They are simply the best!!!!!