Archive for October, 2018
[Review] Vanilla Cake With Whipped Chocolate Chip Frosting
- Ontario, CA
-
via Yelp
Best cupcakes ever!! Love their frosting! Not too sweet. My favorite is the vanilla cake with whipped chocolate chip frosting.
[Review] Cute And Delicious Cakes
-
via Google Reviews
I got a last minute cake for my son, it looked cute and tasted good. Will recommend!
[Review] After School Cupcakes And Treats For The Kids
- Fullerton, CA
-
via Yelp
Cupcakes are sooo good! It is a fun treat for my kids to come get cupcakes or ice cream after school. They love coming here and they are priced well too. The decor is super cute also!
[Review] Delicious Mint Chocolate Chip Cupcake
-
via Google Reviews
I don't go anywhere else for cakes or cupcakes. Patty's is the best. As a Baker myself, I am picky. I love her mint chocolate chip cupcake the best. Tastes just like ice-cream on a cake!
[Review] Cupcakes For Grandpa's Birthday
- Fremont, CA
-
via Yelp
Went here for the first time yesterday and grabbed four cupcakes for my gramps bday, (used the buy 3, get 1 free Yelp deal.) The cupcakes were a hit and my family loved them. There are so many options to choose from. I had a sample of their ice cream while waiting and that was also delicious. I'm determined to get through every single flavor option for the cupcakes, so I will most definitely be back!
[Review] Perfect Cakes And Cupcakes For Any Occasion
- Anaheim, CA
-
via Yelp
I work about 3 min away from Patty's Cakes. I have been meaning to stop by and buy some of her cupcakes. I have heard a lot of good things about them. The store is so cute, nice, kids friendly and clean. I love the way see as her menu. I order the lemon drop and banana split. The lemon drop was delicious not too tart not too bitter it was just perfect and I love the fact that she uses whipped cream the Banana Split I bought it for my husband and he's very picky on sweets but he loved it he said he the cake was moist, good and too pretty to eat (lol) the topping was whipped cream he loves whipped cream. I well definitely go again recommend this place to families and friends and I'm looking forward to buying a cake the next few months.
[Review] Patty's Cakes Has the Best Cupcakes Ever!
- Fullerton, CA
-
via Yelp
This place has the best cupcakes ever. Mrs. Patty always makes us feel welcome when we visit. I love this place.
[Review] Beautiful No Fondant Wedding Cakes!
-
via Google Reviews
My husband and I had the best experience with this place. Best cakes ever! If you're not a fondant fan this is the place to go! The cakes are incredibly delicious! Our cake was a coconut pineapple cheese cream filling and it was delicious for everyone at our wedding thought it was one of the most delicious cakes they ever had. Good prices and just the whole outcome was amazing will definitely be buying from here again! Thank you, Philip, for everything and the experience you're the best!!!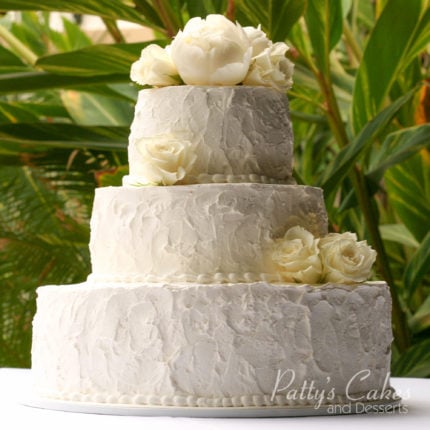 [Review] Patty's Banana Cake Is To Die For!
- Santa Ana, CA
-
via Yelp
I have been meaning to write this review months ago, but life has been busy. I L O V E Patty's Cakes!!! First off, they have great customer service. I got married last year and they did my wedding cake. Instead of having a tiered cake I ordered a cupcake tower with a small personal cake on top. It was beautiful and delicious. Their banana cake is to die for!!! I usually don't care for anything that is banana flavor, but wow!!! It's so good!!!
[Review] Fantastic Chocolate Caramel Salty Cupcake
- La Palma, CA
-
via Yelp
First time. Great service and for $3 a cupcake, worth it. I had the chocolate caramel salty. The cake was moist and although I cringed when I saw the amount of frosting, it wasn't teeth-aching sweet! Fantastic dessert!