Posts Tagged 'birthday cake fullerton'
[Review] Perfect Birthday Cake!
-
Perfect Birthday Cake! Design and flavor were perfect!
[Review] Daughters 3rd year requesting Patty's cake
-
Best cake ever!!! – This is the 3rd year that our daughter had asked for your cake for her celebration. Everyone loved it.
[Review] Birthday cake surprise from Dubai
-
via Google Reviews
I was searching for a bakery that have vegan cake and Patty's cake showed up. Checked reviews and it was all good so placed an order. I ordered from Dubai for my mom's birthday. Its a surprise so I didn't tell her anything. I called my mom and she said there was cake delivery for her. She opened it and read the message. She cried out of happiness and was truly surprised. I was so happy! Thanks Patty's for making my mom so happy. The cake came really early.
Love Patty's, I'll definitely order again.
[Review] 2 Yummy and Free Birthday Cupcakes
-
via Google Reviews
The best cupcakes ever! Friendly and professional, sign up for 2 yummy free Happy Birthday cupcakes all flavors available freshly iced to order. So fresh!!!!
[Review] You Can't Leave Patty's Cakes With Just One Thing
- Bakersfield, CA
-
via Yelp
Purchased a cake for a friend's birthday and the employees were extremely helpful and patient! The cakes are amazing and it's hard to leave the store with just one thing! Everything looks so tasty! Definitely recommend taking the detour I took to try this place!
[Review] Sweet Treat for the Soul
- Fullerton, CA
-
via Yelp
Bought my husband the chocolate cake for his bday and it was so damn good! So moist and the mouse filling was just the right amount of sweetness. There is something fabulous about a good sweet treat for the soul. Presentation is really pretty too. They even wrote a requested unordinary message on the cake for me! That means customer service is bomb too! All around recommend to you all!
[Review] Birthday Cake for Son's Birthday
-
via TripAdvisor
Spot on Birthday Cake! Looked around for a couple small Birthday Cakes for or Son. We were lucky enough to find this lovely little piece of heaven in Fullerton. Thank you, Patty and your wonderful staff for helping us find what we needed. The best part was seeing our Son's face and it goes without saying how delicious the cakes were! See ya next time.
[Review] Consistently perfect cakes and cupcakes
- Fullerton, CA
-
via Yelp
There are a few cupcake places in Fullerton and they are all good. But Patty's is the best, in my opinion. The cakes and cupcakes are perfect and consistent every time. The new building is so cute and decorated for the different holidays, the Cake in a Bag is "OMG". It would be awesome if they had bottled water, beverages, and a small table with chairs. The kids like to eat their cupcakes in the store and the bar seating is a bit high. I was there once and a regular with the Fullerton Assistance League told me that Patty donates goodies to local kids in need of their birthday… That's pretty awesome. Patty's Cakes makes me happy!
[Review] Wonderful cupcakes, amazing cakes, and great owners
- Fullerton, CA
-
via Yelp
This is my go-to cupcake/ bday cake place. The people here make you feel welcome. I am glad they moved to a new location because they are now closer to my home. Wonderful cupcakes, amazing cakes, and great owners. You are the best Patty!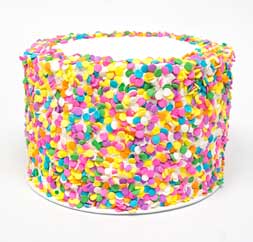 at 9:12 AM by
Another popular Birthday cake design is pink with black dots. Shown here the modern design with great contrast between the white, pink, and black make for a fantastic looking birthday cake and a happy birthday girl. This birthday cake is a 8 inch round with a red velvet and cream cheese mousse filling.