Posts Tagged 'Fullerton bakery'
[Review] Best Cupcake Store Around
-
via Google Reviews
Always amazing, one of the best cupcake/ cake stores around.
[Review] Amazing Peanut Butter Jelly Cupcake
-
via Google Reviews
Unbelievably good had the peanut butter jelly cupcake and it was so good!!!!!!!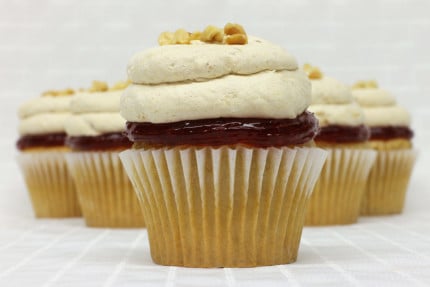 [Review] Amazing S'mores Cake Ball
-
via Google Reviews
It was so bright & cheerful , I really appreciated the part where I wasn't quizzed about being on crutches the banana cream cupcake was amazing I am a big fan of red velvet equally amazing the s'mores cake ball was a perfect size taste of oh my God these are awesome thank you Patty for your wonderful cakes
[Review] Wonderful Cupcake Flavors at Fullerton Bakery
- Fountain Valley, CA
-
via Yelp
Had a wonderful experience today at Patty's. The cupcakes were delicious and the service was splendid! Will definitely return to try more of the flavors.
[Review] Cupcakes are Delicious at Patty's Cakes
-
via Google Reviews
Customer service is excellent. Cupcakes are delicious. Great experience at Patty's Cakes and Desserts.
[Review] Our Wedding Cake was PERFECT from Fullerton Bakery
- Fullerton, CA
-
via Yelp
Stop looking for other cake places, because you found your bakery right here. Patty's Cakes was affordable, professional, supportive, and above all else.. TASTY!
I was looking for a place to get a yellow wedding cake (My favorite!) made for our 100 person wedding this last March, and I contacted about 4 other bakeries looking for someone who would make this flavor. The other bakeries said they would not make the cake flavor I was looking for and were asking for over $400 for the bare minimum of designs. Sad.
I contacted Patty's cakes and their main contact, Philip, responded immediately saying "Yes! We can make a yellow cake for you!" and gave me a price estimation that was well where my budget would allow me. He then answered all my questions that I had, and was able to do a cake tasting on my own time!
Now, the taste. OH MAN it was great! I have a major sweet tooth, but my now husband does not. The Icing that they used was a perfect compliment to the cake itself and it was not too much or too little. We both loved it and knew that this cake was the way to go.
We ordered the cake early (about 4 months in advance), and as we got closer to the wedding date, the number of guests we invited dwindled down from 100 to 85. I asked about 1 month ahead if they could make the cake smaller? They did and refunded the cost difference to us, no hassle!
As we also got closer to the wedding day, the original courier I was going to have to bring the cake was not available for us and I needed to find someone to be able to pick up the cake and deliver it from Fullerton to Topanga Canyon. I asked Philip for some guidance and he was not only able to solve our problems, but get a decent pricing for us considering the distance as well!
The cake arrived and it was PERFECT. If you look at the picture here, you'll see our cake too! It was a fantastic purchase and everyone kept telling me how tasty it was! We're definitely going back to Patty's next time we need a cake, for any event!!
[Review] Best Cakes at Patty's
- La Mirada, CA
-
via Yelp
My daughter and I were out cake tasting for her Engagement party and Patty's cakes blew every other cake out of the water! Best cakes ever! And I love me some cake! Do yourself a favor and have some cupcakes at Patty's. 
[Review] Cake for Granddaughter's Birthday
- Fullerton, CA
-
via Yelp
I want to thank Christina for corresponding with me thru email to order a cake for my goddaughters 2nd birthday. The cake looked so amazing and it tasted sooo good! Very moist and not too sweet! The birthday girl loved it as well!