Posts Tagged 'Fullerton birthday cakes'
[Review] Fresh, Moist, and Delicious Fullerton Cupcakes
-
via Google Reviews
Pattys has the best cupcakes around. Always fresh, moist, and delicious.
[Review] Fullerton Bakery Has Gluten-Free Cupcakes
- LADERA RANCH, CA
-
via Yelp
It starts with a great new location and friendly service. The selection of amazing cupcakes and desserts is overwhelming and they even have a huge menu of gluten-free options. The cupcakes are topped fresh per your order and they are amazing. My favorite is the chocolate salted caramel cupcake. If there is one request I can make…maybe some vegan dessert options in the future.
[Review] Cakes Are Perfect And Not Too Sweet
-
via Wedding Wire
We bought cupcakes for our wedding and everyone loved them! Not too sweet. They are definitely unique. There was 0 left over! And we absolutely loved the GF option. Patty is a sweetheart!
[Review] At Patty's, Cakes Are Made With Love
- Brea, CA
-
via The Knot
Patty's Cakes are hands down the best. The amount of love that patty has for people shows in her cakes. She is one of the kindest ladies you will ever encounter and always easy to work with. Patty's cake will always exceed your expectation of what you think a cake will be. Thank you so much for making our wedding even better with your cake and cupcakes for everyone to enjoy.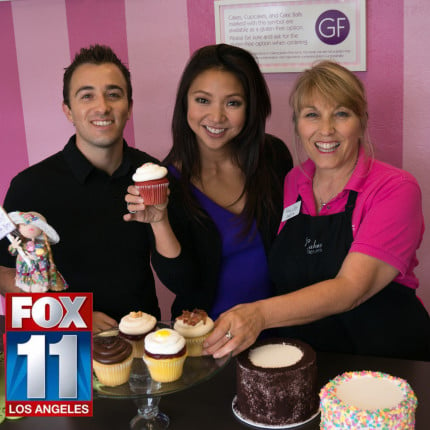 [Review] Moist And Yummy Cakes
- West Covina, CA
-
via Yelp
The cake was AH-MAZING!! It was so moist and yummy! We got the white cake with raspberry and vanilla bavarian cream filling. Will definitely need to try other flavors.
[Review] Delicious Moana Birthday Cake
- Corona, CA
-
via Yelp
I was pleasantly surprised at the"MOANA " cake Patty made for my granddaughter. It looked and tasted absolutely delicious. All my guests wanted to know where I got the cake because they all loved it. It was really moist and flavorful. Thank you Patty…you're AWESOME!
[Review] "Great customer service, even better tasting dessert's!"
-
via TripAdvisor
The customer service is outstanding. Very friendly atmosphere and the bakery was so nice and clean. As a first time customer, I was very happy with the cake I ordered. The "Moana" cake was not only beautiful; it tasted absolutely delicious. All my guests kept talking about was delicious the cake was. Thank You, Patty…You're AMAZING!
[Review] Fullerton Cake Shop Has Coffee, Ice Cream, And Cake!
- Buena Park, CA
-
via Yelp
Thank you Patty's Cakes for a wonderful first-time visit! I love knowing that we can choose our cakes and frostings and have it freshly garnished as you wait! The addition of yummy Illy coffee and Thrifty ice cream really adds to the delicious experience! My family and I will definitely be back again!
[Review] Delicious German Chocolate Birthday Cake
- Fullerton, CA
-
via Yelp
I had a last minute idea to get a German Chocolate cake for my brother's 40th bday – called on a Tuesday evening, and was lucky to be able to order a cake. Had I waited 10 more mins I wouldn't have been able to get a cake. Thank you Patty for taking my order that night! We all loved it! My brothers daughters ate the other half of the cake and he had only gotten 1pc. It sure was delicious! Thank you again! Great service, prompt pick up, delicious cake! I'll be back for sure!
[Review] Fresh, delicious wedding cakes! Fullerton, CA
- Fullerton, CA
-
via Google Reviews
I had Patty's Cakes make my wedding cake. It was amazing! My husband has surprised me with a cake for my birthday a couple of times, and I am always pleased. I truly recommend going to them. All the cakes have been delicious, fresh and pretty looking.