Posts Tagged 'Fullerton wedding cakes'
[Review] Ordering a Wedding Cake Made Easy
-
via Google Reviews
They make wedding cake ordering so damn easy
[Review] Chocolate Banana Wedding Cake
- Fullerton, CA
-
via Yelp
Great for wedding cakes!
Made an appointment for a wedding cake tasting which provided lots of options of cake decor and flavors. Ended up going with a chocolate banana cake which sounds a little weird, but was totally delicious.
The delivery service was very easy and professional. I was a little worried about the frosting melting since our wedding was in the sun during August, but the cake held up perfectly. Would definitely recommend!
[Review] Personalized Cakes at Orange County Bakery
- Chino, CA
-
via Yelp
Patty's cakes exceeded my expectations. I was looking for a last minute personalized cake for my husband. I know, personalized anything is almost impossible to order on short notice. After calling many places and almost losing hope. I received a return call from Patty's cakes. They had a last minute option which was choosing one of their already made cakes and adding a photo. It was great! My husband loved it and the photo was of high quality. Thank you Patty's Cakes!!!! You guys saved my husband's special day. Not to mention the staff, they were very kind and understood my worry.
[Review] Banana Wedding Cake with Bavarian Filling
-
via Yelp
Best bakery in town! They did a wonderful job making our wedding cakes. Their cake is moist and fluffy and their filling is delicious. My personal favorite is banana cake with bavarian filling! I highly recommend them for any event!!!
[Review] Delicious and Beautiful Wedding Cake from Patty's
-
via The Knot
My Husband and I were very happy with our delicious and beautiful wedding cake from Patty's Cakes. I found out about Patty's cakes through the Knot after being referred to several bakeries that were entirely out of our price range. We worked with Phillip and were able to get the exact cake we wanted in our budget. Many of our guests raved about how great the cake was at our wedding, my only regret was that I did not get to enjoy more of it the day of the wedding. But my husband, who had about 2 or 3 slices can attest that is was amazing!
[Review] Wedding Cake Was Perfect
- Long Beach, CA
-
via Yelp
We went to Patty's Cakes to order our wedding cake. The process was very easy (and tasty). The staff gave great recommendations and were very accommodating. Our wedding cake turned out perfect. It was very moist, full of flavor and the design was simple but elegant. Our guests raved about how much they liked the cake also. I would absolutely recommend Patty's Cakes to everyone!
[Review] Best Wedding Cake Ever!
-
via Google Reviews
I loved our wedding cake. Many people in my family have opted to have no cakes at their weddings as my family is not a huge fan of cake in general… however it was important to me to have one. With that being said, no one in my family was thrilled to be served cake. Once they tasted the cake from this bakery they could not get enough. It's a good thing we ordered extra servings because many of our guests had seconds (and thirds!). One cousin who used to be a wedding planner said it was by far the best wedding cake she had ever tasted and another family friend asked for the bakery name to see if they would be the vendor for their event center.
[Review] Adorable Cupcake Store
- Montebello, CA
-
via Yelp
I Love Patty's Cakes. I come to a couple of times a month. The store is adorable and always clean. The cakes and other desserts are always delicious. They also did our wedding cake back in October of 2017 and we absolutely loved it, so did all of our guests I would def recommend to other!
[Review] Simple and Elegant Wedding Cake
- Anaheim, CA
-
via Yelp
We had our wedding at Orange Hill restaurant so we had Patty's Cakes make our wedding cake. We wanted a very simple but elegant cake and that's exactly what we got. We had many compliments from our wedding guests on how delicious it was. Overall very professional & great quality. Definitely, recommend for anyone looking for a reliable bakery to deliver on their wedding day. Thank you Patty!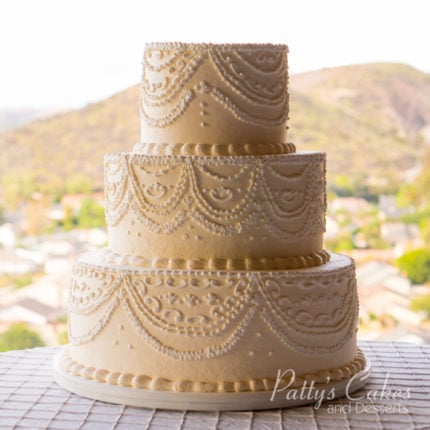 [Review] Anniversary Cakes for Wife
-
via Google Reviews
We ordered our wedding cake through Patty's Cakes and were helped through the entire thought process to make the cake of our dreams! On the day of, they delivered on time and placed the topper for us. Every guest said they loved our cake because it was just enough sweetness! Today I picked up two cupcakes with the same flavors my husband picked for our one year anniversary on Monday. They even added a special touch and wrote "Happy Anniversary" on top of the box for me. Needless to say, I'll be ordering from them for life!