Posts Tagged 'peanut butter cupcake'
[Review] Amazing Peanut Butter Jelly Cupcake
-
via Google Reviews
Unbelievably good had the peanut butter jelly cupcake and it was so good!!!!!!!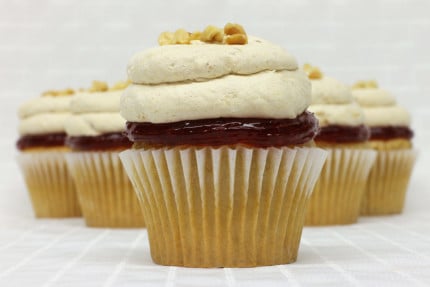 [Review] Cupcakes for Birthday or Any Occasion
- La Habra, CA
-
via Yelp
I went here the other day and bought two cupcakes: the peanut butter fudge and the eclair flavors. Deeeelicious! The staff was very helpful and nice and the store itself was adorable. I will definitely be back, either for cupcakes or for a birthday cake!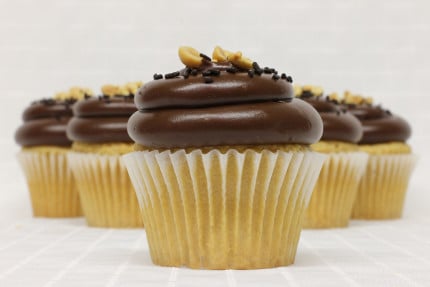 [Review] Flavorful and Moist Cupcakes and Cake Balls
- La Mirada, CA
-
via Yelp
I have driven by Patty's many times to the Fullerton station for my ride to work in Downtown LA. I wanted something sweet noticed Patty's was quite crowded but decided to stop anyway. OMG….what a clean, bright and welcoming bakery. I purchased 4 cupcakes peanut butter with chocolate, chocolate with salty chocolate frosting, red velvet with cream cheese and a lemon. They were all excellent my favs were the red velvet and chocolate with salty chocolate frosting. I'm a chocoholic! Cupcakes were moist and rich in flavor. The cake balls were excellent. I have had others that are dry with no flavor, but Patty's are extremely flavorful, moist and you can't just eat one! Thank you to Kada for her recommendations.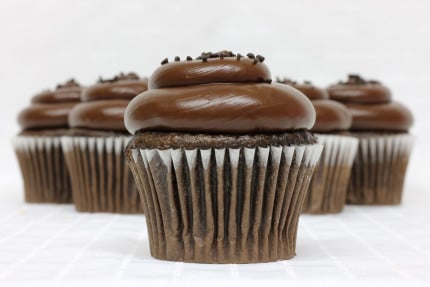 [Review] Wedding Cupcake Cake
- Orange, CA
-
via Yelp
We had our wedding cupcake cake done by this place. My wedding was held on March 10,2018. Super friendly staff! Oh man! The cupcakes were AMAZING! We had recesses peanut butter cupcake ! oh no disappointment there! Out top #1 favorite cupcake! It was a beautiful cupcake cake. However I wish that I paid a bit more for decorations on the base or something. It was just a plain white cupcake stand with cupcakes in it. One top-tier small cake on top and that was all the decoration of it. It was a tad sad. The cupcakes were super good! My guest love them a lot. They ask me where did I get them! Taste is fantastic!
[Review] Fullerton Bakery Peanut Butter Cupcake Is Delicious
-
via Google Reviews
Patty's cupcakes are very delicious. My favorite cupcake is the ?? peanut butter with cream cheese frosting….
[Review] Delicious Birthday Cupcakes
- Orange, CA
-
via Yelp
Omg…delish x 10. Having my son's birthday party in Fullerton and started to look for somewhere close by the restaurant. Stumbled upon this gem. Had the lemon drop and a peanut butter chocolate both of them were awesome. Ordering cupcakes for his birthday tomorrow so many choices don't know which to choose, especially since I want to try them out.
[Review] Perfectly Sweet Cupcakes Frosted Fresh
- Anaheim, CA
-
via Yelp
This is my favorite cupcake place around. The cake is light and the frostings are amazing. Today I had the PB and J cupcake. They are not too sweet. Yet sweet enough. I would definitely recommend them. When you walk in you do not see any cupcakes. It is a little confusing at first. But they frost them all to order so they are super fresh.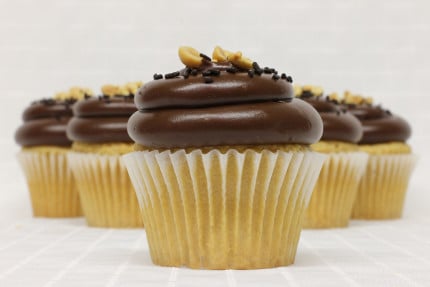 [Review] The best cupcake vendor!!!
- Fullerton, Ca
-
via The Knot
Best Cupcake Vendor
We had cupcakes from Patty's for our wedding, and we couldn't be happier with our experience! Patty was very helpful and friendly during our initial consultation, and even allowed us to sample cupcakes to help us decide which flavors we wanted. The day of our wedding, the cupcakes were delivered on time (our venue was over 45 minutes away from Fullerton), and they were fresh and delicious! We loved the small peanut butter cutting cake, and our guests raved about how good the cupcakes were! We had seven different flavors, and did not hear a bad word about any of them. We would certainly use Patty's cakes for any event again, and we'd highly recommend them!
[Review] Obsessed With Patty's Cakes!!!
- Anaheim, CA
-
via Yelp
Okay, I'm a wee bit obsessed with Patty's Cakes. I am the Goldilocks of cupcakes…this one's too sweet, this one's too dense, this one's too dry. Well, fellow Yelpers, Patty's Cakes are just right!
I had read the reviews for this place months before actually going in. I was driving on my way to lunch one day and randomly saw it and immediately turned my car into the parking lot. It's a diamond in the rough of the shopping center it's located in.
The inside of the shop is small and cute, and I learned that Patty decorates it often to reflect the season or holiday going on at the time. The girl that helped me (Bridget? Brittany?) was super sweet and helpful. I told her it was my first time there, and she welcomed me and described the cupcakes and recommended some great flavors.
I ended up getting the Lemon Drop cupcake and red velvet cake ball for myself, and a chocolate with peanut butter mousse cupcake and chocolate chip cake ball for my honey. It was love at first bite! The cupcakes were moist, but not too rich, and the frosting…oh dear God! It's a whipped frosting, so it's not too heavy or too sweet. Her presentation is awesome, too. The peanut butter mousse had chocolate ganache over it topped with a peanut, and the lemon had a lemon drop (hence the name) over the lemon and whipped frosting. The cake balls are so delish and huge! They're like the size of a golf ball!
I know some people don't like that the cupcakes aren't on display, but I like that they frost the cupcakes to order.
I made many returns to Patty's, trying all the different cupcakes, and when looking for a cake for my upcoming wedding, there was no other choice. My venue actually includes a cake, but I had to have Patty make my cake.
Patty was so incredibly nice and funny during our cake consultation. I felt like she was an instant friend! She was so helpful with suggestions of the design of the cake, and was so patient when my fiancé and I struggled to narrow down the flavor choices. I absolutely cannot wait to have my cake and eat it too on my special day!
I feel so fortunate to have such a fantastic cupcake shop so close to me. Patty's Cakes is my go to for cupcakes and cakes for any special occasion!
at 5:16 PM by
Recently we launched 13 new standard cupcake flavors. This ups of flavor listing to 32 flavors available to be freshly iced everyday.
Here is a list of our new flavors:
Chocolate with Chocolate Fudge
Chocolate with Chocolate Mousse
Chocolate with Chocolate Chip Mousse
Chocolate with Mint Chip Mousse
Chocolate with Peanut Butter Mousse
Chocolate with Strawberry Mousse
Chocolate with Vanilla Mousse
Chocolate with Coconut
White with Chocolate Fudge
White with Chocolate Mousse
White with Chocolate Chip Mousse
White with Mint Chip Mousse
White with Peanut Butter Mousse
White with Strawberry Mousse
White with Vanilla Mousse
White with Coconut
Red Velvet with Chocolate Chip Mousse
Red Velvet with Cream Cheese Mousse
Banana with Vanilla Cream
The Elvis (Banana Cake, Peanut Butter Mousse, and Bacon)
Banana Split (Banana Cake, Pineapple Filling, Strawberry Mousse)
Lemon Drop (Lemon Cake, Lemon Topped)
Lemon Colada (Lemon Cake, Lemon Filled & Coconut Topping)
Lemon Razzle (Lemon Cake, Vanilla Cream Filling, Raspberry, & Vanilla Mousse)
Chocolate Chipper (Chocolate Cake, Chocolate Chip Mousse & Chocolate Drizzled Potato Chips)
Chocolate Caramel Salty (Chocolate Cake, Chocolate Fudge, Caramel, & Sea Salt)
The Neapolitan (White Cake, Chocolate and Strawberry Mousse)
Piña Colada (White Cake, Pineapple Filled, Coconut Topping)
Éclair (White Cake, Vanilla Cream Filled, and Fudge Topped)
Butter Pecan (Butter Pecan Cake, Apple Filled with Cream Cheese Mousse)
Dos PB & J (Peanut Butter Cake, Raspberry Jelly Filled, with Peanut Butter Mousse)
Peanut Butter with Chocolate Fudge
Find photos and more on our cupcake page
Here are a few of the new cupcakes
Neapolitan Cupcake
White with Strawberry Mousse Cupcake
Lemon Razzle Cupcake
Banana Split Cupcake
Chocolate Mint Chip Mousse Cupcake
Dos PB & J Cupcake
The Eclair Cupcake