Check out these amazing wedding cakes!  All beautiful and decorated to perfection.  Each has its's different designs but all look beautiful!
This wedding cake is beautiful and has a chocolate drizzle on the entire cake!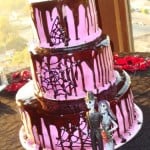 This gorgeous wedding cake has a rosette design with beautiful roses on the cake.
This wedding cake has stunning red roses on the cake with amazing designs throughout!