Posts Tagged 'Award winning bakery'
at 2:28 PM by
How exciting! We were voted Best Birthday Cakes by Parenting OC in their Readers Choice 2020 awards!
at 9:09 AM by
Last Wednesday night the Fullerton Chamber of Commerce announced the winners of their "Businesses of the Year" awards. We are happy to announce that we won the 2015 Small Business of the Year Award!!
Two very strong nominations from two very different businesses were received for the Small Business of the Year award. For the first time the Chamber decided to make it a tie! They presented the award to us and to another long standing Fullerton business, Fullerton Photography. What an honor! The award will be officially presented at the Annual Presidents' Business Achievement Award in mid-June. Thank you to all of our customers for supporting us! (Philip of Patty's Cakes, pictured with the Chamber of Commerce members and other award winners)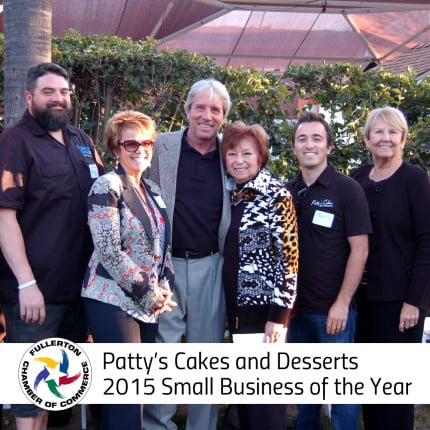 at 10:58 AM by
We did it again, three years in a row!
We are a winner of the Couple's Choice Awards 2014 from Wedding Wire
Thank you to all of our fantastic brides and grooms for helping us earn such a prestigious award.
We've been honored to bake for weddings all over Orange County.