Posts Tagged 'Orange county bakery'
[Review] No Explanation Needed!
- Orange County
-
via Google Reviews
All I can say is OMG !!!!!
[Review] Amazing cupcakes & very nice customer service
- Huntington Beach, CA
-
via Yelp
Amazing cupcakes & very nice customer service. This is my new addiction! These are probably the best cupcakes I have every eaten. The frosting is light like whipped cream, but yet not airy & still with just enough richness!
at 9:06 AM by
Though the event has come and gone, Patty's Cakes and Desserts is still celebrating the 2015 Small Business of the Year Award. Part of the honor included a video feature, where we were able to share more about our bakery and the story behind it. We hope you enjoy watching and again thank you for your continued support.
at 3:36 PM by
Last night, nearly 200 members of Fullerton's business community gathered at the Summit House Restaurant for the Fullerton Chamber of Commerce's annual Presidents' Business Achievement Awards dinner. With great excitement, Patty's Cakes and Desserts was officially presented with the 2015 Small Business of the Year Award. Much to our delight, we also received recognition from the Mayor, and representatives from our Congressman, State Senators, State Assemblywomen, Orange County Supervisor, and State Board of Equalization.
For a business with humble home beginnings to receive such gracious accolades is an accomplishment for us beyond words.  We are grateful for the customers that have been with us since the beginning, and those that have supported us along the way. Additionally, Patty's Cakes would not exist without our fantastic staff that has allowed us to grow into the business we are today, and are so thankful for their dedication. Finally, thank YOU. We are delighted to share this recognition with all of you.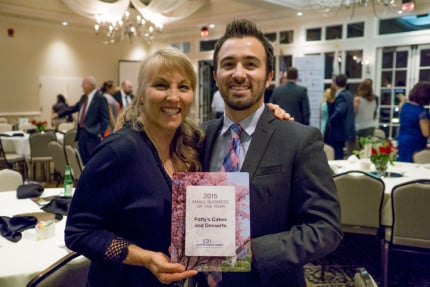 [Review] Patty's Cakes and Desserts did not disappoint
- Garden Grove, CA
-
via Yelp
I had bookmarked a couple of bakeries in order to find the best one to order a custom birthday cake from. Before I decide on the best place, I want to try the desserts being offered at each place first. Patty's Cakes and Desserts did not disappoint.
The first time I came there, I tried the cake balls (banana & red velvet). They were SO GOOD! In my opinion, they are way better than Sprinkles Cupcakes in Newport Beach. If you think Sprinkles is bomb, Patty's will bomb sprinkles. I kept craving Patty's after my first time, so I found reasons to go to Fullerton to run errands in order to visit this place. The next time I came, I ordered 3 red velvet cupcakes and 1 salted caramel. They were all SO GOOD, just like the cake balls. I am not really a fan of cupcakes, but these topped all the cupcakes I've ever tried. They are SO moist and not too sweet.
The last time I was there, I also ran into football player Daniel Fells which was pretty cool. If you love sweets, make this place your destination.
[Review] So Good and Fresh!!!
- Fullerton, CA
-
via Yahoo!
The cupcakes were so good and fresh! I love having a good bakery near by!
[Review] More than just a fan for this place!!!
- Anaheim Hills, CA
-
via Yelp
I love love LOOOOOOOOVE Patty cakes!!!!
I first tried them out when my sister was doing cake tasting with various bakeries for her birthday. She brought back a taster of a vanilla mini cupcake and a mini red velvet and it was tasty fresh! So for her birthday we ordered a vanilla pineapple cream cheese cake! This cake was a HIT at my sisters birthday party. It was beyond fresh even after it being in the fridge for 2 days it still tasted as fresh as the day we bought it!I will be getting my birthday cake here without a doubt!
Now for the cupcakes. When you walk in your thinking, where's the case of cupcakes!?!? Well the way they do things here with their cupcakes, is quite different. You look on the board and see which one you'd like. They go in the back and frost them for you. Its a mousse frosting, not a solid icing. You can mix and match your cupcake toppings. So if you want the Elvis topping on a vanilla cake instead of banana, they will do that for ya. Very patient and super nice employees. So we walked out of there with a few cupcakes. The one I ordered was the Butter pecan and a vanilla cake with the Elvis topping. The butter pecan was instant crack!!!!!! It was moist , the apple filling was amazing. The cream cheese mousse was not to sweet, jus perfect! The vanilla cake with Elvis toppings ( Peanut butter mousse and nice big bits of bacon) This was tasty and the peanut butter mousse was not overwhelming, just nice and light. The bacon was nice thick cut bacon with sprinkles of sugar.Thats how I usually eat my bacon so I was in love with that. Whenever I come back here its safe to say that I will most definitely order the Butter pecan cupcake!
Im more than a fan of this place and I wish them nothing but more success in the business of cakes and cupcakes!
[Review] Best Cupcakes in Town!!!
- Fullerton
-
via Yahoo!
Best cupcakes in town, my whole family loves them. A must stop while in California.
[Review] Highly Recommended Cupcakes in Fullerton
- Fullerton
-
via Yahoo!
My husband brought home Patty's cupcakes for my birthday. Those were the best cupcakes ever. I would highly recommend Patty's cupcakes